Doors On Demand is an Authorized Dealer of Steel-Craft Door Products.
Steel-Craft are so passionate about quality materials and parts that we make everything themselves – from garage doors to springs to tracks to rollers. They skimp on nothing, which is a claim that no other garage door manufacturer can make.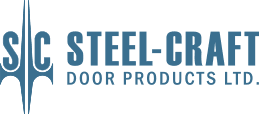 Steel-Craft designers know garage doors top to bottom, and they make them from the inside out, understanding exactly what architects, homebuilders and homeowners across Canada expect from the Steel-Craft name.
They offer many decorative options, but rest assured that the basic design behind each and every Steel-Craft door is tried and true, and built to withstand heavy use. 
They start with high-quality, Canadian-made steel when making our garage doors. With our cutting-edge manufacturing process, our durable steel panels have no open seams, meaning Old Man Winter can't sneak through the cracks and into your home. Being made in Canada means our doors can stand up to our Canadian weather.
They know it's not all about strength, durability and function – you want your Steel-Craft garage door to look beautiful, too. Our wood grains are realistic, and we ensure our doors are primed and prepped with care so your white stays bright and your colours don't fade. 
Learn More About Steel-Craft